⁄
⁄
CONSTRUCTION OF ST. LUKE'S COLLEGE NEW MAIN BUILDING IS STARTED!
March 4, 2019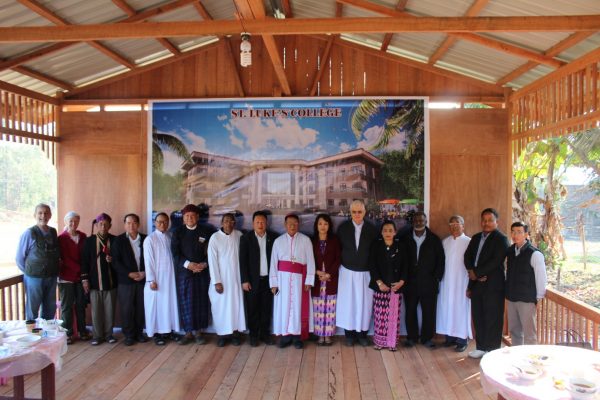 The present Board of Directors and the Faculty of St. Luke's College under Myitkyina Diocese has a dream. The dream is to construct a New Main Academic Building for St. Luke's College in Edin, Myitkyina, Kachin State,         Myanmar.
The General objective of this mega project is to provide better facilities and infrastructure in teaching, learning and administering environment to the Staff and Students.
The Specific objectives are:
To prepare men and women in proper facilities based buildings in order to share in the mission work of the church by walking in faith and sharing the faith in their respective local communities and to teach the Good News with children, youth and adult, and to build community with their families.
To network with other denominational and faith communities to build a fraternal common home on the earth as church leaders. The college intends to hold and train a capacity of 300 students – 150 students in regular catechetical socio-pastoral formation; 75 catechists in ongoing catechetical socio-pastoral formation; and 75 students in English language, computer literacy with additional integral life-skills formation.
The expected outcome of this project is:
The trained catechists and others themselves will be made agents to help the other persons in the villages and towns to participate in such socio-pastoral oriented humanitarian activities to grow in self-confidence and to remain as responsible Christians and citizens.
The community mobilization certainly will bear fruits to meet the causes of faith-justice related concerns and to understand and remove such barriers and to encourage the faith based and civil society to take socio-pastoral responsibility to develop integral growth as humans.
With this clarity of thought, on 2 March, 2019 after the morning Eucharistic celebration, the Myitkyina Bishop Francis Daw Tang, the Patron of the College, blessed the construction site and prayed for its completion. Besides the present staff and students, the local clergy, Religious and faithful, the special witnessed persons were the past Directors Fr. Naw Din and Fr. Yawhan Naw Tanwg, The present Columban Sisters' Superior General Sr. Susanna and The Jesuit Superior General's Assistant Treasurer from Rome Fr. Jorge Serranao, SJ. By witnessing the event and looking at the vinyl of the building structure, one of the students exclaimed, "Wow! What a look of the building! We look forward to this new academic building for our and our children's future formation!"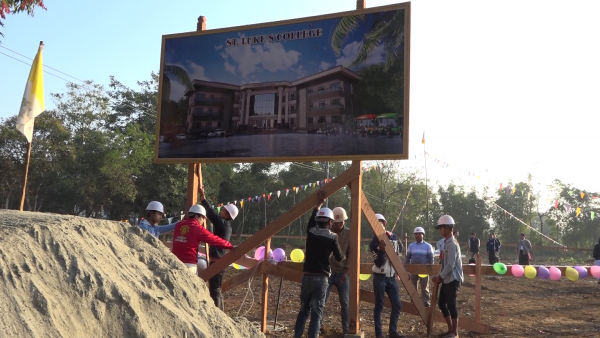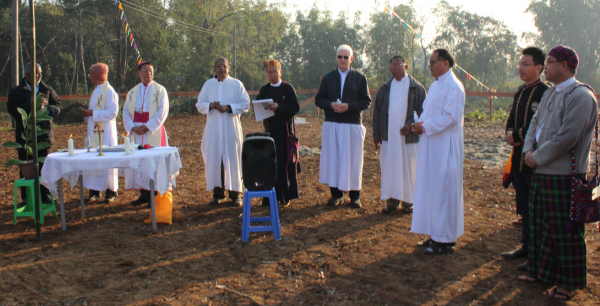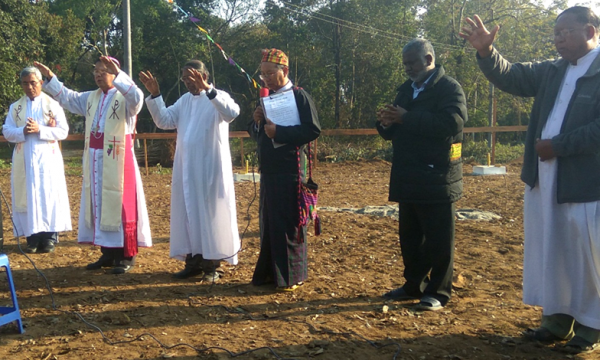 For completion of this building a prayer is recited every morning soon after communion in Kachin language by Staff and students. Let us continue to pray for this noble cause!
This is the Prayer in Kachin – Jinghpaw:
CHYUM HKAWLIK JAWNG GAWGAP AWNG DANG NA AKYU HPYI GA
Mahkra dang chye ai Wa Karai Kasang e, anhte a San Luka Chyum Hkawlik hpe jaw ya sai majaw chyeju dum ga ai. Ndai Chyum Hkawlik Jawng gaw lani hte lani grau rawt jat galu kaba wa u ga, Nang wa kaw up nawng da ga ai. Wa Karai Kasang e, San Luka Hkawlik hpe grau hkum tsup ai hku sharin achyin, shapan shalat ya lu na matu Jawng Htingnu hpe gawgap la na hkyen lajang shachyip ai lam hta shaman ya rit. Ta tut galaw sa wa ai hta, lit la ya, woi awn hkrang shapraw gawgap ai amu hpe mung, Nang Wa a lata kaw ap da nga ga ai.
Ndai San Luka Hkawlik Htingnu hpe gawgap la nhtawm, Buga hte Nawku hpung bawng ring rawt jat su hprang wa na, Nang Madu a Sasana magam gun masha grau law jat wa u ga, Shinggyim bawng ring hte Hpung magam gun shapan shalat ai amu magam hpe mung, grau masan sa hkra Nang Wa nan bausin lanu lahku ya nga rit, ngu nna, anhte a madu Hkristu a marang e hpyi nem nga ga ai law. Amen.