⁄
⁄
Ecumenical Fellowship Football Match
June 10, 2017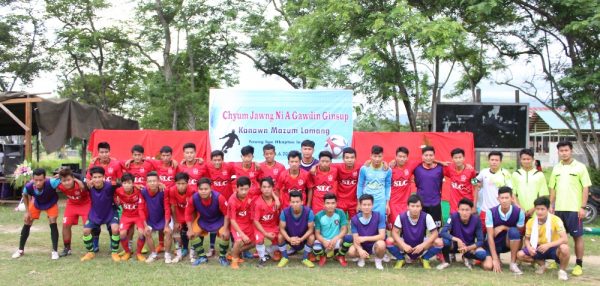 ACTIVITIES
– WELCOM SPEECH BY SPORT IN-CHARGE OF KTCS
– PRESENTING A GIFT TO ST. LUKE'S COLLEGE TEAM BY KTCS
– GROUP PHOTO TAKING OF BOTH TEAM AND PLAYERS
– A BUNCH OF FLOWERS IS PRESENTED TO GUST FOOTBALL PLAYERS BY KTCS FEMALE STUDENT
RESULT
KTCS 6 : 3 ST.LUKE'S
Fellowship football match with KTCS
Kachin Theology College and Seminary (KTCS) invited St. Luke's College to play a fellowship football match as an Ecumenical collaboration. On June 10, 2017 (Saturday) this football match took place in KTCS Football field in Nawng Nang Village. It was for the first time such a fellowship football match for both Colleges took place after so many years. The staff and students participated together and enjoyed the company of each other and playing fellowship football match.
Home team had better performance and played very well and players were individually skillful.
St. Luke's team need to improve the team performance and individual skill.
Most importantly, we could built a good relationship between St. Luke's college and KTCS
As KTCS invited St. Luke's College to play the ecumenical fellowship football game, we willingly accepted to play. It was the first time for both colleges to have this fellowship football game after almost 3 decades. It was also a first step for both colleges to have stronger relationship in the near future.
This fellowship football match took place on June 10, 2017 in the football field of KTCS in Nawng Nan village. When we arrived, they welcomed us warmly and keenly. Before the game was started, we had a small program. Sport In-Charge of KTCS gave a welcome speech. Afterward, KTCS presented a gift to St. Luke's College football players. Then, both team players posed to take a group photo for the record. Beside, home team also prepared a bunch of flowers and presented to all the St. Luke's players by the KTCS female students.
The game was started with kicking of the football by Fr. Girish Santiago, the Associate Director of St. Luke's College. During the game time, the home team played very well and tactically they were better. However, St. Luke's players tried their best to play against them and our players did very well in the second half.
As the game was taking place, staff and students of both colleges sat together enjoyed watching the football match, having conversation and supporting players.