⁄
⁄
For Peace in Myanmar – Praying Procession in Myitkyina!
May 30, 2018
For Peace in Myanmar – Praying Procession in Myitkyina!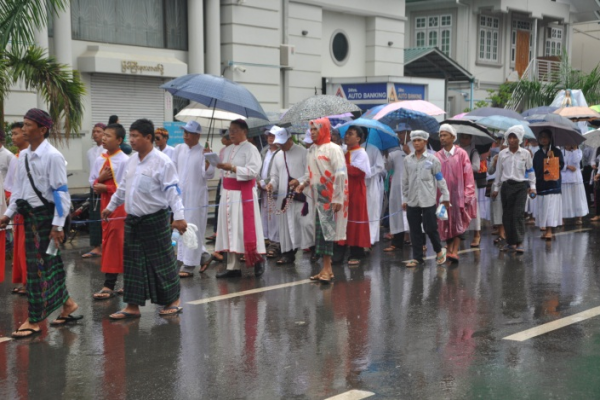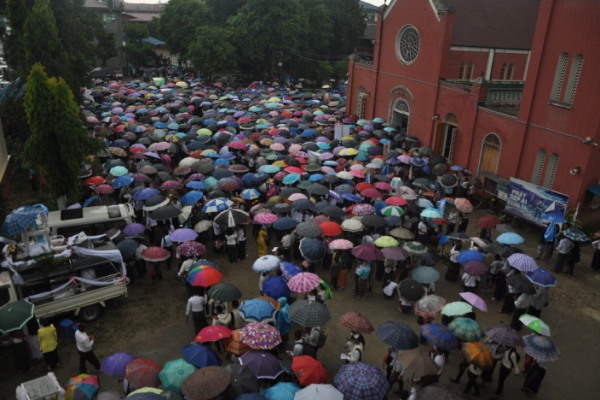 On 28 May, 2018 at 8.30 in the morning, the Myitkyina Diocese Catholic Bishop Francis Daw Tang led a prayer processionstarting from his Cathedral Church at Aungnan, Myitkyina. From various quarters, nearly 10000 Catholics from the parishes of Myitkyina and Sitapru, including a large numbers of Priests, Seminarians, Religious Brothers, Priests and Sisters, in spite of the heavy morning rain, assembled at this place to express their solidarity towards their suffering internally displaced brethren and to pray for a war-free and peaceful nation. Peace in Myanmar was the sole intention of this prayerful procession.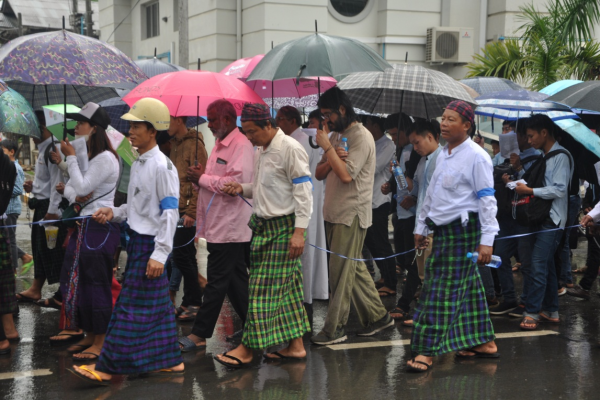 With a clear instruction from the organizers the procession began from St. Columban Cathedral. From various quarters the participants carried their decorated Marian statues on their shoulders moved forward as one community of believers praying for peace. All through the procession the participants held their umbrellas in their hands and enthusiastically recited Rosaries. After each decade, everyone joined in the singing with great gusto the Marian hymn –"Ave, Ave, Ave Maria (2)." True, throughout the two hours procession our prayerful yearning was– "Be with us Mary along the way, guide every step we take. Guide our Nation and State to promote peace and build a peaceful Myanmar!"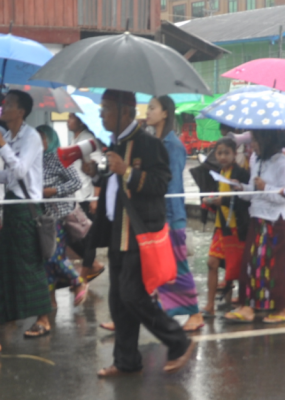 It was amazing to note our senior most St. Luke's College Staff Sara Kaba John Nlam Gam Li, the Golden Jubilarian as a Catechist of this year, in his old age, as a spirit-filled and spirit-led person was guiding and accompanyingthe college students all through the procession along with his other Staff members. In fact, this has been a real grass-root level of formation to our students to walk for a noble cause!  The procession ended with the holy Eucharistic celebration at the Marian grotto of the Cathedral, presided by Rev. Bishop Francis Daw Tang and concelebrated by many priests. The participants, without minding the rain, were engrossed fully in the Eucharistic celebration standing in front of the grotto. In such a situation, we were glad to encounter our last academic year's graduated students, as catechists, accompanying and leading their flock meaningfully in such a procession. May our month of May's Marian procession bear peace-filled fruits to re-experience Myanmar as a Golden Myanmar!