⁄
⁄
Inaugural ceremony of St. Luke's College
May 29, 2017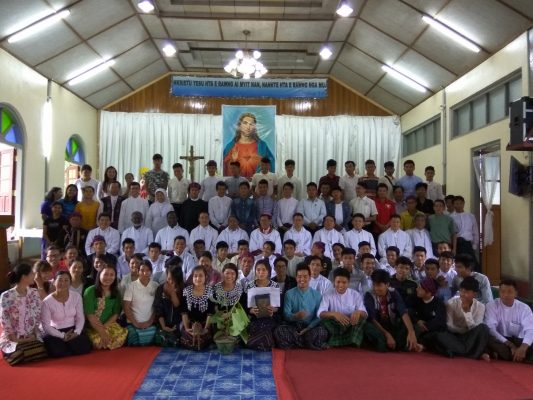 Event Schedule
Morning
6:30 AM
Mass Celebration
We invited Priests, Catechists committee, all the lecturers and lay people to the inaugural ceremony of St. Luke's college for the academic year 2017 – 2018.
Customarily, we held College Inaugural ceremony with a Mass celebration. The Most Rev. Bishop Francis Daw Tang and 10 Priests celebrated the Inaugural Mass. At the beginning of Mass, Fr. Leo Gopal, Director of St. Luke's college, gave the welcome speech. In his speech, he warmly welcomed Bishop Francis, fellow priests, lectures, guests and especially all the new students. He also invited all to support St. Luke's College through different means such as prayers, donations, guidance so that the college can run smoothly and successfully. Then Bishop Francis Daw Tang led the inaugural Mass celebration.
8:00 AM
After the Mass celebration, St. Luke's college offered Breakfast to the guests, staff and students.
9:00 AM
Academic Dean Sr. Rosa Nan Htu conducted a curriculum meeting with lecturers. In that meeting, 13 permanent and visiting lecturers participated.
Main discussion was about the subject matters. The academic dean presented to all the lecturers about their tentative schedule of their respective subject. They all came to an agreement to the mentioned schedule of their subjects and express their willingness to be part of St. Luke's college.
The academic dean requested from all professors in advance to submit their subject syllabus (Course Description, Course objective, course outline, methodology, course requirements for the students and resource references.)
There were few suggestions from the meetings as below:
– It would be good to have Art and cultural department, research department and language department.
– Better to produce a brochure to promote about St. Luke's college
– Better to have more time to teach on the Scriptural Subjects.
Afternoon
3: 30 PM
Friendly Football Match
First Year Students' team against second year students' Team.
Evening
7:30 PM
There was a Cultural dance and singing Show as a celebration of welcoming first year students hosted by the second year students. Second year students performed a few cultural dances and singing songs. It was really a great time for the students to be able to start a new academic year with a fresh mind.