January 12, 2023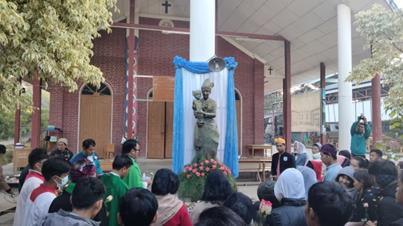 On the morning of 10 January 2023, St. Luke's College celebrated the 75th Kachin State Day.  Fr. Kurt, SSC, and Fr. Lawrence SJ (Associate Director) celebrated the morning Mass with a special intention on this Kachin State Day. Our 69 first-year students, College staff, Sisters, and a few parishioners participated in the Eucharist. At the end of the Eucharist, with great respect, the whole congregation assembled before the inculturated Marian statue, popularly known in Kachin Jinghhpaw language as Nu Maria Nam Shayi, protector of the Land, and said a decade of the Rosary.
This particular devotion was started in 2015. Our senior catechist teacher of the college Sara Kaba John Hawng Hkawng gave a short note about the meaning of the particular Marian Statue and Sarama Chyem Hkawn, the college's extracurricular dean, led a special prayer. Through the intercession of our Mother Mary, we put our prayer intentions for our State and Country, our individual wishes on prayer envelops and burnt them as we say our prayers. Finally, the prayer session ended with a blessing and a sumptuous breakfast for all.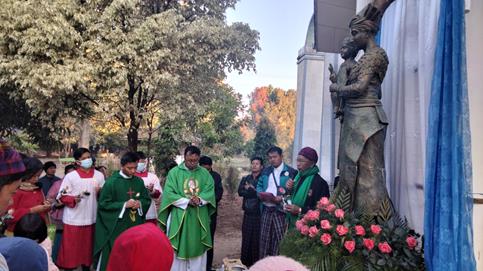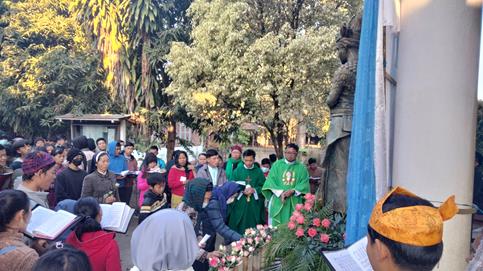 From 9:00 a.m. on that day, the students and staff continued the celebration until 3:00 p.m. with singing, dancing, watching educational short movie clips regarding the history of the State Day. A special talk was given by a distinguished guest speaker, Mr. Yawhan Htingbu Wai Du who gave an inspiring talk on the history of Kachin Ethnic.