⁄
⁄
No. (4) Renewal Course (On-going formation for young catechists)
May 3, 2023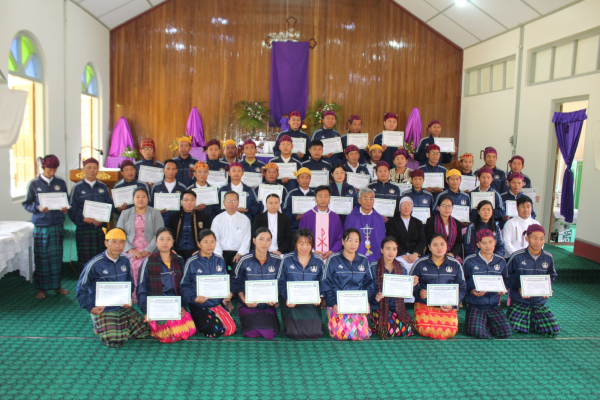 To upgrade our catechists in their social and pastoral knowledge for the better service in the Church, St. Luke's college organized and provided a No.(4) Renewal Course from 18th to 29 March, 2023. (43) Catechists from Myitkyina, Bamaw and Lashio dioceses participated.
The curriculum for the renewal course was designed by the academic dean and directors based on the evaluations of the past experiences and the current situations.
Date
Particular Topic
Facilitator
19 -20 March 2023
Servant Leadership
Sr. Sylvia Lahpai Seng Tawng
21-22 March 2023
Sacrament of Marriage
Fr. Peter Nangzing Naw Lawt
23 March 2023
Understanding Eucharist through scripture
Fr. Stephen Zaw Min Lat
24 March 2023
Roles and Responsibilities of Catechists and their Vocation
Bishop Raymond Sumlut Gam
25 March 2023
Synodality in the Church
Saranum Rosa Magawng Chyem Hkawn
26 March 2023
EXPOSURE (Pilgrimage Outing)
 
27 March 2023
Synodality in the Church (am)

Pastoral Ministry (pm)

Miss. Rosa Magawng Chyem Hkawn & Mr. Peter Matsaw
28 March 2023
Pastoral Ministry
Mr. Peter Matsaw
29 March 2023
Thanksgiving & departure
19-20 March 2023
Sacred Hymn
Mr. Matsaw & Miss. Rosa Chyem Hkawn
We are very much delighted for the provided course for our catechists. We got a lot of good feedbacks from the participants. There are more than a hundred catechists longing for this kind of course especially in remote villages. Currently there are about 600 catechists working in the fields. We expect to provide them renewal courses every year.