⁄
⁄
Our First Visit to the New Tanghpre IDP Camp
May 21, 2018
Our First Visit to the New Tanghpre IDP Camp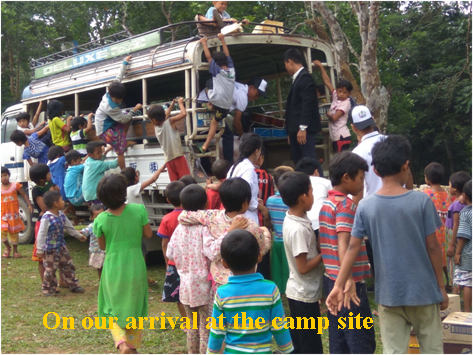 On May 13, 2018 the 47 second year students and a few Staff members of St. Luke's College had a purposeful visit to the newly located IDP Camp at Tanghpre, 40 kms away from north Myitkyina. The purpose was to be present with our suffering displaced brethren and to encourage them to face the situation in good faith. We encountered about 1220 persons in the camp from 20 villages – from Tanghpre parish 17 and from Kachyihtu parish 3 of the northern Kachin State. While talking with the elders of the camp we heard them saying that there are still many who are stuck in the conflict zone area where there is no safety and a few are still stranded in the forest. Thus, gradually the number has increased to 10000 since June 11, 2018 in different camps.  Unfortunate indeed!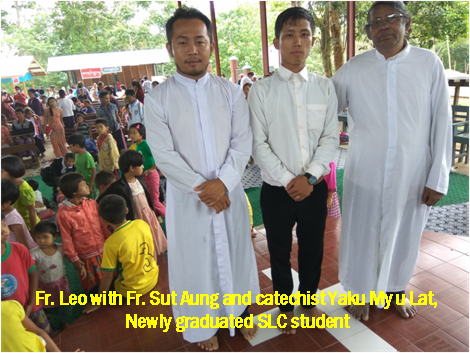 After our initial visit of the camp site we expressed our solidarity by sharing the carried kitchen provision and other useful things with them. Frs. Leo Gopal and Girish Santiago of SLC, Fr. Patrick of SSC concelebrated the Sunday Mass at 10am with the Tanghpre Parish Priest Fr. Stephen Sut Aung. The liturgy was planned and executed by the students themselves. In which Fr. Girish Santiago gave a moving homily in English and Fr. Leo Gopal translated it into Kachin. In the words of Fr. Leo, as the homily was understood he could see some faithful in tears! "God was with us in creation; in old Exodus experience; in redemption; and he is with us now. In your and our collective suffering God continues to accompany us. He will never abandon us. So, continue to walk bravely in this journey of new Exodus…", said Fr. Girish.
He also appreciated the great commitment of Fr. Sut Aung, St. Francis Xavier Sisters, Catechists and Elders for their timely shepherding spirit. At the end of the Mass, Fr. Pat reaffirmed the words of Fr. Girish and meaningfully encouraged all assembled to continue experiencing God's presence in spite of the collective pain and physical sufferings. Then, after the Mass and lunch, our students and Staff actively involved in visiting, conducting various activities for and with 512 children, namely – catechism classes, conducting social games, sing-songs, dances, paintings.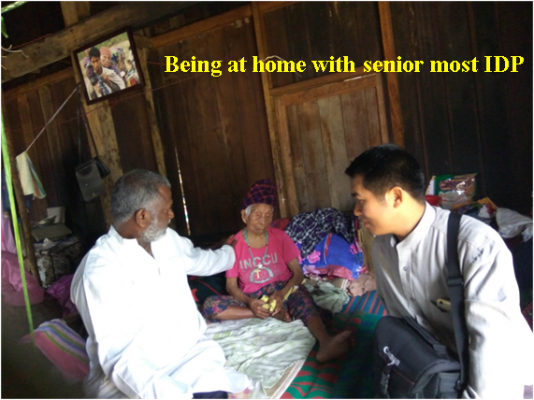 Having heard the Priest's presence in her ward, at once Mrs. Anna Supna Hkawn Bu (about 114 years) of Pa Tsip Zup village got up from her bed and thanked with her smiling words "Wajau, Chyeju kaba sai yaw." Yes. At 4pm, after cleaning the entire camp site, as we were leaving, the young and old, children and adolescents, having happily encountered us in their midst, started waving their hands by saying "Bai Hkrum Ga!" – see you again! We all left the place with mixed feelings of joy and pain. We too were moved with tears!
The entire programme was well coordinated by the Jesuit Brother Doan (Administrator), Sara Peter Naing Lin (Project Dean) and the enthusiastic Staff with the creative and empathetic students of St. Luke's college. Indeed this was our first socio-pastoral exposure visit in this academic year 2018-19. We pray and look forward to a war-free and peaceful Kachin land! May God bless all!