⁄
⁄
Paska Blessing Gathering
May 11, 2018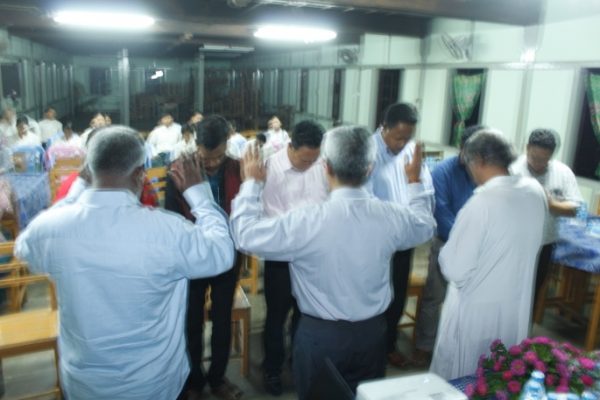 On May 3, 2017 (Thursday) a Paska blessing ceremony took place in St. Luke's College (SLC) at 6.30 pm. The invited Priests, special guests and local business people were at the ceremony which was organized by Fr. Leo Gopal, the Director.
The Purposes of this gathering were:
To inspire the business people with the Paska Gospel message and blessing
To gather the local business persons and form a fund raising committee from them for St. Luke College's NEW main building construction.
Fr. Leo Gopal gave a welcome speech and Fr. Gawlu Yung Wa inspired all with the Paska message. Then the Engineer Mr. Anthony presented his construction design on power point. After discussing on the building structure, a fund raising committee was formed among the business people. Their names and designations are: Mr. Zaw Li Gam (Committee Head); Mr. Mi Htoi Naw Tawng (Assistant); Mr. Ah Phu (Administrator); Mr. Ki Tu Zaw Hkawng (Assistant); Mr. Aung Tu Tawng (Treasurer). The sole role of this committee is to generate and raise fund for this construction from various business sources.
Then, with greater hope, the three Priests (Fr. Leo Gopal, Yun Wa and Girish) blessed all and seeked for God's blessings to move forward in building such a new structure for socio-pastoral formation with the help of various men and women of generous hearts and hands. The meeting ended at 8.30 am with a Paska dinner.