⁄
⁄
TARAHKAW SARA LASHUM SUMDOI – New book of Fr. Leo is published!
May 24, 2018
May 24, 2018 has been a special day for St. Luke's college. On this day, during the morning Mass at 6.30 the Staff and Students, and the usual Mass participants witnessed an important event. That is the book release of Fr. Leo Gopal, the Director of St. Luke's college. Fr. Girish, as the main celebrant of the Mass expressed his joy and invited all to participate in the book releasing ceremony by saying – "Hpu nau ni e, Ngai nanhte hpe tsun dan na matu grai kabu nga ai. Dai gaw Wajau Leo Lazing Tu San ka tawn ai  laika a lam rai nga ai. Ndai laika gaw Wajau Leo nan ka shalat da ai rai nga ai. Wajau hku nna laika buk "Tarahkaw Sara Lashum Sumdoi" hpe hpaw madun ya na matu ndai aten hta San Luka Hkawlik mying hte Sara John Hawng Hkawng hpe saw shaga mayu ai."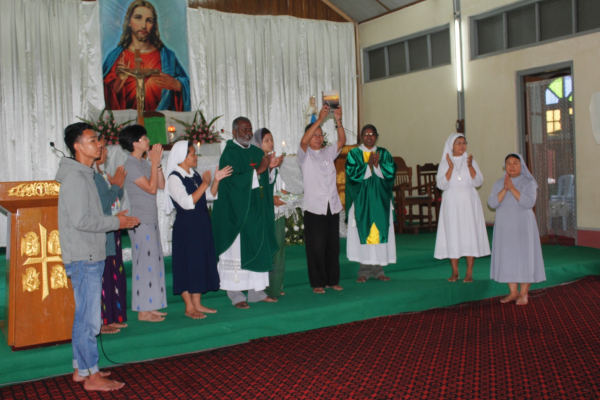 Then the new book was released by one of the senior Staff members of St. Luke's College Sara John Hawng Hkawng and placed the first copy in the hands of the author. Then, the author Fr. Leo symbolically presented his book to various Religious personnel and lay representatives.  On this occasion, Sara Hawng Hkawng congratulated Fr. Leo and said, "I have read word by word of this book when it was being prepared in Kachin language. I myself found very rich in its content and I personally liked it. I must say, this book is a real handbook especially for the Catechists, also for all evangelizers!"
At this moment we humbly communicate that Fr. Leo, the present Director of SLC, with his dedicated Staff members continues to form the students in an unassuming way in the college campus of Edin, Myitkyina. A centre known for its eco-friendly nature! So far this St. Luke's institution has trained about 690 male and female students to become frontier faith-justice leaders since 1939. Right now there are about 417 catechists as socio-pastoral leaders in serving various remote area communities of the three Kachin Dioceses, namely Banmaw, Lashio and Myitkyina. Finally Fr. Girish invited all to buy the book for 2500 kyats and to encounter how the words of Fr. Leo have become flesh and a tool for a socio-pastoral changing personnel in modern times – "Ndai laika hpe hti ai a marang e, wajau Leo a machye machyang hpaji ni hpe lu la na re ngu myit mada ai."
At the end the whole congregation applauded for the great contribution of Fr. Leo to the literature of the Kachin church. Congratulations dear Wajau Leo Lazing Tu San for your inculturated priestly identity and mission in the land of Kachin. Thank you Father and we are very proud of you as our leading Director! Chyeju Kaba Sai Yaw Wajau!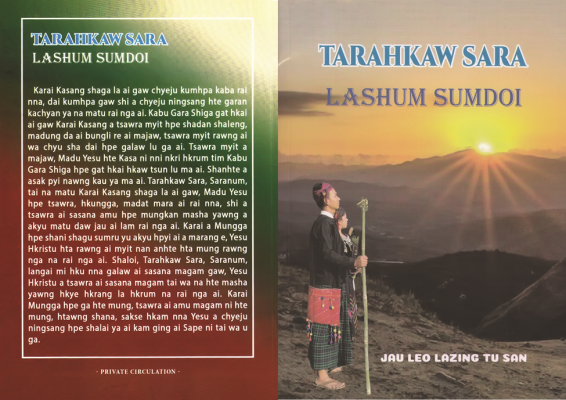 Note:
Missio – Aachen, Germany has supported financially to publish this book. We are grateful to Missio for their continuous support to St. Luke's college.
The cover was designed by Sara Christie Htang Suan Kim, Former Project dean of SLC.
The two standing catechists on the front cover page are our vibrant second year students: Joseph Pasi Seng Myat Awng and Cecilia Zinghtung Hkawn Ra.