May 14, 2017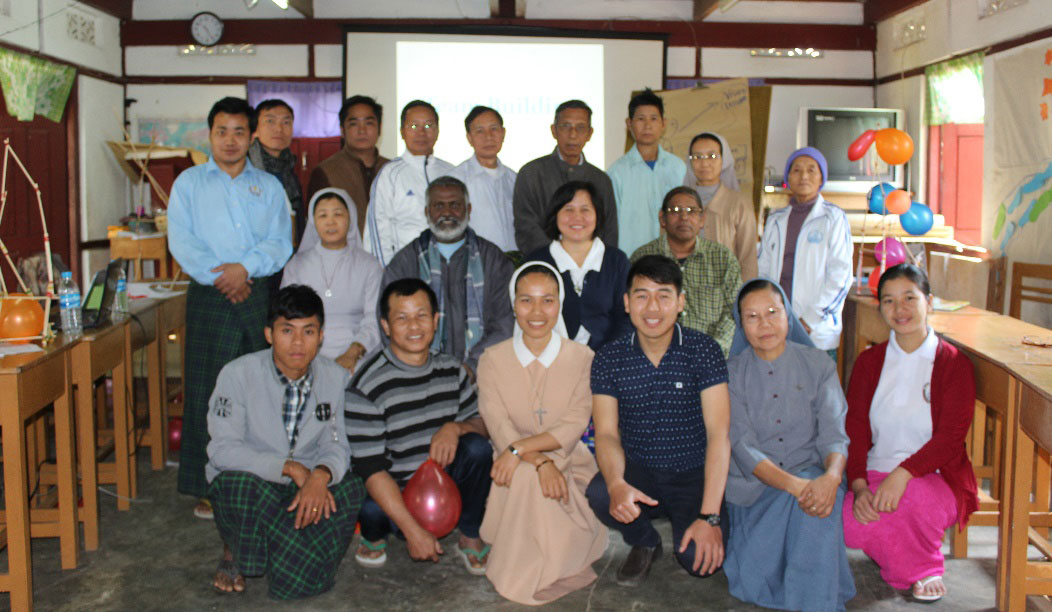 LEADERSHIP AND TEAM BUILDING
Three days workshop on Leadership and Team building
The three days workshop was initiated and organized by Fr. Leo, the Director of the St. Luke's College and facilitated by Sr. Ashwena Apao, SSC. This workshop was a capacity building training for the staff as well as review workshop of St. Luke's activities.  In this workshop, in total 18 staff participated.
The Purpose of this three day workshop was:
What is our call/vocation to this work?
What is my leadership?
How do I participate in this work and how am I patient?
How much do I commit on this work?
What are the essential virtue and values working here?
How much do I participate for the improving of St. Luke's college?
We are team and what team means?
What did I do and how did I do?
What are the needs for this College?
Day One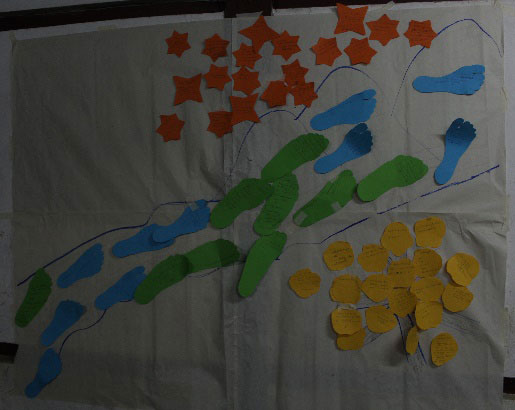 In the morning section,
Facilitator introduced the whole workshop and formed 4 groups and followed by discussion of
Expectations and Hopes from this workshop
Helpful things to success our Hopes and expectations
Disruptive things during the workshop
As shown in picture, Star shape represents Expectations and Hopes, Footprint represent helpful things and yellow shape represent the disruptive things.
Vocation/Call topic in the morning session
What is a call?
Discussion among groups.
After that, facilitator elucidated
The call of work
The call of relationship
The call of faith
Individual Activity: Drawing and sharing with the participants
How do you see your own calling?
What is your vocation in life?
Heroic Leadership topic in the afternoon session
Each group performed a role play in which express leadership and sharing with others group.
After that, elucidation of facilitator about Leadership followed.
Four pillars of success in Leadership
Self-awareness
Ingenuity
Love
Heroism
Duties of Leadership
The six leadership Style (Goleman)
Commanding/Dictatorship – "Do what I tell you"
Visionary – "Come with me"
Afflictive – "People come first"
Democratic- "What do you think?"
Pacesetting – "Do as I do now"
Coaching – "Try this"
Day Two
Recap on Day one workshop
Team Building
What is a team?
Group Activity: Building a tower with given materials within 5 minutes. The highest tower wins.
Each group shared their awareness on team from this group activity.
Elucidation of Facilitator with PowerPoint presentation and video clip
Characteristics of effective Team
Stages of team development
How teams form and function: 1.Task Functions 2.Support Functions
Strengthening the team by knowing Team members' differences and working style differences
Group Activity: Charade
Differences in Team Members
The Nine Enneagram Type Descriptions
The Myers-Briggs Personality Type Indicator
Collaborative Communication: A role play
Communication skills
Model Conflict Management Process
On Day III
Presenting St. Luke's College Vision, Mission, Goal and Objectives.
A Few minutes reflection:
How do you feel reading/hearing the VMG/s of St. Luke's college? Why?
How do you feel being part of this VMG/S of St. Luke College? Why?
SWOT Analysis for St. Luke's College
(Strength, Weakness, Opportunity, and Threat)
Group discussion
Presentation by each group.
Team Review and Action plan was facilitated by the facilitator.
This workshop was ended by a special prayer activity led by the facilitator. Firstly, a passage of bible was read by a participated and few reflection is done. Afterwards, all the participants were invited to plant a tree which represent as developing St. Luke's College. In that activity, some participants prepared the soil to plant, some planted a tree, and some watered the tree.  This means all the staff working for the St. Luke's college plays a very important role in growing and developing the college.