⁄
⁄
Tree Plantation Program
June 24, 2017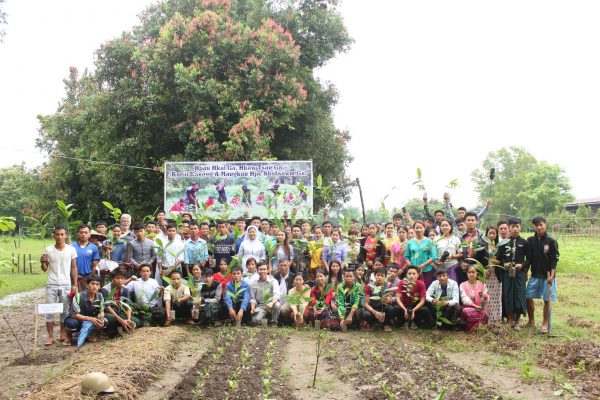 St. Luke's College, Socio-Pastoral Formation center organized a tree plantation program with the guidance of its Director Fr. Leo Gopal in the campus on June 24, 2017 as fully supporting and acting to the Laudato Si, the encyclical letter of Pope Francis and aims toward keeping Clean and Green of the Campus of St. Luke's college with the active participation of Students, staff, lectures and volunteers.
After the Mass celebration that morning, Priests, Students and Staff gathered together for the tree plantation program at the cultivation plot. This program is started by saying a short prayer led by Mr. Nlam Gam Li, External Relation Dean. Then, a poster was erected as a symbolic of planting tree program. The theme of this planting tree program was based on the Bible verse (Genesis 2: 15)"Hpun Hkai Ga, Hkaw Tsun Ga, Karai Kasang A MungKan Hpe Shatsawm Ga!" in Kachin Language written by a well-known senior catechist Mr. John Nlam Gam Li. In English "Let's Plant tree, proclaim it and beautify God's Earth, our common Home."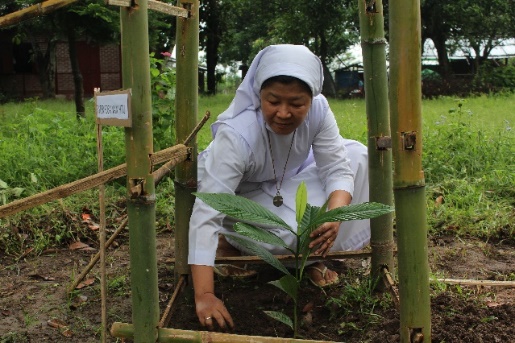 " Tree are essential to life. They create the very air we breathe and clean air pollution. Therefore, Let us plan more trees! Planting trees mean caring for our Sister Mother Earth "our common home" as well. "

– Sister Nan Htu, Academic Dean
After that, Fr. Leo, Director, gave a welcoming speech and told the purpose of this tree plantation program. He said: "Today, we are celebrating the World Environment Day. On this auspicious day we are gathered together on this Mother Earth and as a symbol of respect to this Mother, we continue to take care of her by planting the tree plants in our campus. God, as the Creator, created this world of ours so beautifully but today instead of us participating in his co-creative works we due to our ego have ruptured the creations of his and the greedy nature of ours has created the growing environmental problems, such as the global warming and the natural disasters. All our thick forests are being destroyed by the handful of greedy persons or nations which has caused many difficulties for humans to live peacefully and grow freely. Hence, the humans and the other creatures are finding difficult to survive on this planet earth, which is our Common Home. Thus, caring for creations is our PRIME responsibility, reminds our eco-friendly Pope Francis. In this context, it is apt that we plant trees today in our campus and nurture them to grow more and more. In this way the planted other creations will enable us to grow more as humans, who are part and parcel of all creations. By this act, all those who will come to this campus will experience a green campus and this green nature itself will motivate them to plant in their respective places and to take care of the Mother Earth. By this act you are formed to become the great leaders of the community and motivate all peoples of your context to become the environment evangelizers of today and tomorrow. So, PLAN TO PLANT. TAKE CARE OF OUR COMMON HOME!"
The next was taking group photo for the record. Subsequently, Director first started planting a tree as he inaugurated the tree planting program and followed by all the staff, volunteers and students.
On the tree planting day, all the staff, Volunteer and students of St. Luke's college reflected upon the bible verse Psalms 1: 3 " They are like trees planted by streams of water, which yield their fruit in its season, and their leaves do not wither. In all that they do, they prosper". The other reflection point was John 15: 1 "Jesus the true Vine".
On that day, St. Luke's college Staff, volunteers and students planted over 100 trees around the college campus.