⁄
⁄
Parents' Day at St. Luke's College
August 20, 2019
Parents Day at St. Luke's College
On 26 July 2019 St. Luke's College students customarily celebrated the feast day of St. Joachim and Anna as honoring and Thanksgiving Day for all their parents. On this particular day, St. Luke's College students give appreciations to their parents in different ways such as giving gifts and offering Mass intension.
Fr. Girish Santiago SJ celebrated the Mass of the feast day of Saints Joachim and Anna at 6:30 in the morning. The ceremony led by SLC students began at 10 o'clock. During the ceremony the winner students (football, drawing picture, composing songs and poem writing competitions) were awarded prizes.
Then the SLC students washed the College staff's feet on the stage as a symbolic of love and thanks.   Mr. N Lam Gam Li, a senior College staff, delivered a very moving and traditional blessing speech to the students. This parent's day is celebrated in different style at the SLC campus every year.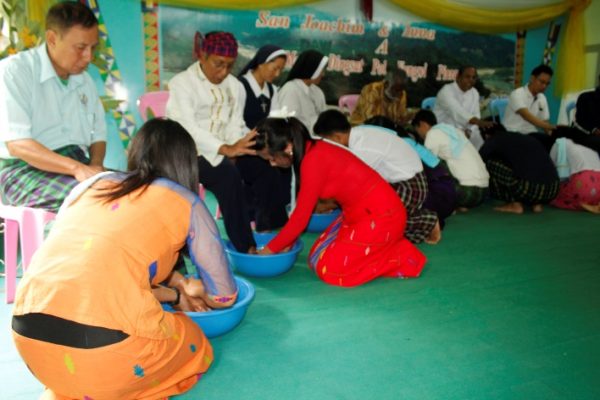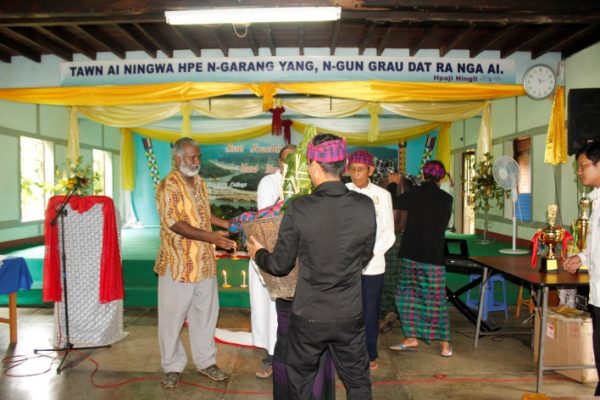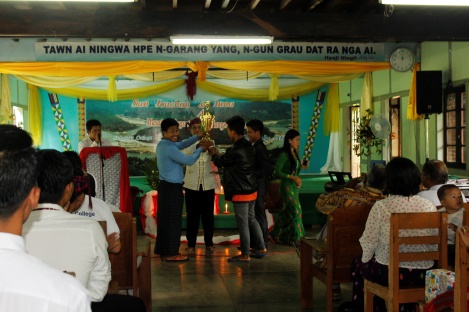 This is the first winner's poem in Kachin which described "Parents' love"
Nu Yan wa a tsaw ra myit (Parents' love)
Ya dai ni July shata 26 ya,
Karai a Kanu chyoi pra ai nu Maria a Kanu yan Kawa,
San Joachim yan, Ann a poi nhtoi rai nga,
masha atai Karai a, Gaji Gawoi yan re ai nga
nawku hpung masat da.
San Joachim yan Ann hpe, shagrau ai,
Wa mungkan hta, hpung tang she, Kashaw,
San Joachim yan Ann hpe shagrau ai zawn,
kanu kawa hpe mung shagrau mu ga nga,
nawku hpung gaw kanu kawa poi ngu nna, masat ya.
Ya dai ni kanu kawa hpe shagrau ga nga ai gaw
mau mau di di, n-gup she mahka,
nu yan wa a chyeju hpe, malap ai zawn zawn raitim,
sara ni tsun ai ga, chyeju dum gin ai wa hpe chyeju dum ra ai nga,
ndai ga hpe ngai n-gun la, nu yan wa a chyeju hpe bai myit yu,
myit yu sawn yu she n-dang hkra, nu yan wa chyeju wa.
Ngai naw kaji, hka lung hka lang, kan gaw tit tit,
n yep gaw baw baw ten kaw na,
ra rawng ai lam n nga hkra, nu yan wa ngai hpe bau maka lai wa.
Dinghku kata ru yak, jam jau lam hkrai hkrai,
nu yan wa gaw mani sum sai,
ngai kasha myit pyaw na hpe she, ahkyak sha tai,
Mungkan ntsa nu yan wa a tsawra myit wa,
shakawn shagrau she n-dang hkra,
pang lai hkin gau na zaibru ni hpe hti yu yang pyi,
nu yan wa a tsawra myit ram law na n sha du ai lu…
Ya dai ni ngai sinkaw kung kaba wa,
nu yan wa hpe shing du kayin da.
Raitim, san Luka chyum Jawng na Karai a mungga wa ,
nye a masin salum hpe ram ram achyaw ya,
nu yan wa hpe (nu, wa) chyeju dum n-ngai
(nu, wa) grai tsawra n-ngai ngu nna lu tsun hkra.
Dai ni nye hkum ngai bai myit yu let,
hpun kaba langai hte, shing daw mayu n-ngai lu,
hpun kaba ai sit tsawm kaba ai wa
hpun a numru-rupawt a majaw she rai nga ai hpe
 anhte yawng chye.
Dai ni kanu kawa hpe shakawn,
 shagrau ai, masat poi ndai hta,
ngai a myit mada, kam hpa shara lamu kasa,
jinhkai nu yan wa hpe chye ju dum shagrau nngai law
Ka shalat ai – Bosco Mung Hkawng Naw
2nd  Year Student